Serving Our Community with a Vibrant Church Life
Lord of Life has activities for young and old in Brighton, MI. Engage in enriching Bible studies and partake in our exciting family events.
Annual Christmas Program
Our annual Christmas program/silent auction/potluck dinner was held on Sunday, December 8, 2022.
The program featured:
A Presentation by the Lord of Life Sunday School Children
A Musical Performance by the Choral Group, Center Stage, from
Milford High School
A Visit from Santa
This is always a great evening for young and old, serving to kick off a blessed Christmas season.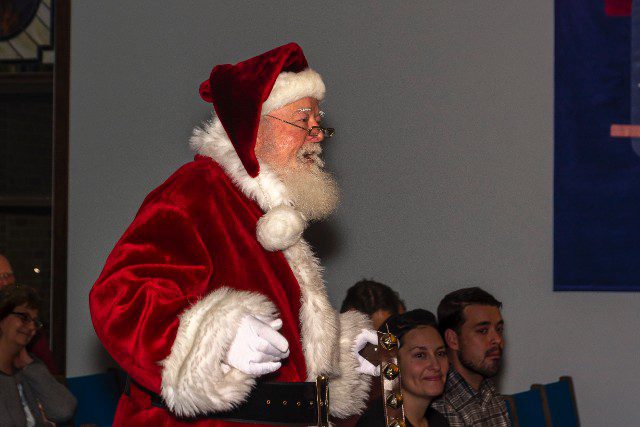 Our Donors
We thank our donors in the Brighton Area Business Community for helping our program come to life.
Bounce House
Brewery Becker
Brighton Bar & Grill
Captain Joe's Grill
Ciao Amici
Cooper & Binkley
Costco
Great Harvest Bread Co.
Howell's MainStreet Winery
Kickstand Brewing Company
Kroger
Leo's Coney Island (Brighton)
Sky Zone
Stillwater Grill
Varsity Ford
Youth Group News
We are off to another great year of LOLYO (Lord of Life Youth Organization). As we enter our fourth active year, we're always on the lookout for enthusiastic individuals who might enjoy leading activities, events, games, or meetings with our amazing group of teens. Please consider helping us to make this year another success.
Foster relationships and help build a multi-generation faith web for the youth. As youth leaders, it's important for us to be consistent mentors and positive role models. Additionally, we encourage them to expand their circle of support by connecting with other adults in our congregation.
2023 Mission Trip
Lord of Life youth went on a series of day mission trips the week of July 31 to St. Luke N.E.W. Life Center in Flint, MI. This was our first mission trip since 2019, as the pandemic placed everything on hold. This experience gave our youth an opportunity to serve and experience a culture different than their own.
Confirmation Overview
Confirmation is a unique journey where you can explore your identity as a cherished child of God. Our two-year curriculum, "Here-We-Stand," effectively prepares our students for Lutheran Confirmation. The curriculum is from Augsburg Fortress, an ELCA Lutheran publisher.
Each week, students experience a connection between the class content and their Affirmation of Baptism. Students also better understand how their faith connects to everyday life, while the expanded small group material encourages relationship-building between the learners and mentors. Solid biblical and theological content also helps connect students with the Lutheran heritage. Video clips, music, and other multimedia resources make the material more approachable for today's young learners.
In 2023, our Confirmation Sunday took place on May 21, marking a significant milestone in the faith journeys of our students. We look forward to guiding and supporting you on this transformational path of discovery and growth.
Vacation Bible School (VBS)
At Lord of Life, we're thrilled to bring children, youth, and adults together for an amazing week filled with Bible stories, music, games, crafts, science, and tasty snacks. We wrap up the week with a fun-filled family picnic on the last day.
But it's not just about having a great time. We also take the opportunity to make a positive impact on the lives of those in need. Each day, we collect offerings to support disadvantaged individuals. In 2023, over $800 was raised in VBS and donated to St. Luke N.E.W. Life Center.
As a reward for reaching our goal, students can bring squirt guns (Howitzers) to the picnic and have a great time drenching their teachers and each other! It's all about celebrating success and creating lasting memories.